See how Big Tech helped to incite the Capitol riots 
March 25, 2021
An advocacy group is helping lawmakers to ask the right questions to the social media and big tech tycoons ahead of March 25 Congressional hearing 
SumOfUs has reviewed dozens of social media accounts, pages, and groups, as well as far-right disinformation websites, and found that tech companies not only provided the organizing platforms for the far-right revolt of January 6th; their policies, algorithms, and tools directly fueled it. 
The platforms' inability to deal with the disinformation crisis shows that these platforms are failing to regulate themselves, and after the past 5 years of manipulation, data harvesting, disinformation, and hate speech, the time has come to rein in Big Tech. 
The full brief reveals how tech platforms failed to respond promptly to election disinformation, and how the measures they took came up massively short in preventing the escalation of violence. The brief also highlights how ad tech platforms like Google and Amazon are funding and profiting off of disinformation websites — which are in turn amplified on Facebook and continue to circulate in far-right extremist networks. 
● WHAT: stunt and visual installation naming the CEOs that fueled the riot at the Capitol
● WHEN: Thursday 25th March 9:00-10:30 am ET 
● WHERE: 3rd St SW (between Madison Dr NW and Jefferson Dr SW, Washington, DC (click location)
● WHO: Interview opportunities with organizers and lawmakers (to be confirmed)
● IMAGE OPPORTUNITY: With the Capitol as background, SumOfUs will put cutouts of iconic characters of the riots with the faces of the big tech CEOs, as shown in the mockup below (please do not publish this mockup, this is shown merely for reference).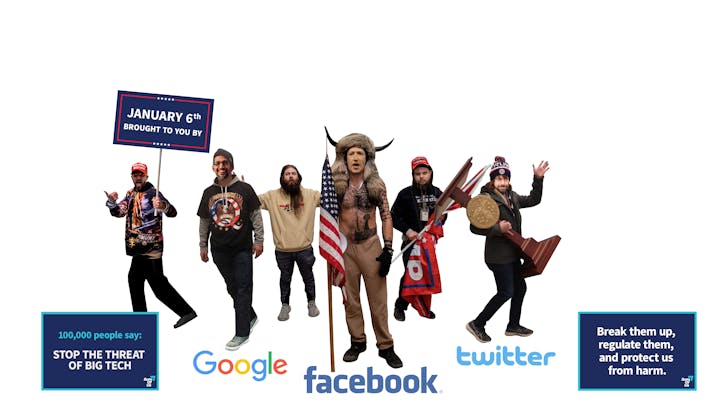 Backgrounders, media briefings, and interviews are available. RSVP to confirm your attendance.
SumOfUs Press website: https://www.sumofus.org/media/ 
Email for further media inquiries: press@sumofus.org