Big Tech blamed for Capitol riots 
March 25, 2021
Portrayed as key insurrectionists, 7 ft. cut-outs of Tech CEOs appear storming the Capitol as groups call on Congress to rein in Big Tech 
Washington DC -- As tech leaders face tough questions from Congress, SumOfUs, an 18 million member advocacy organisation, was right outside with a larger-than-life installation of the January 6th Capitol riot that shows the role Big Tech played in sparking the insurrection.
The image, featuring Big Tech CEOs as key members of the riot crowd, delivered the call of over 450,000 people who want Congress to act swiftly to protect all of us from the harms of disinformation, hate speech and data harvesting.
Emma Ruby-Sachs, Executive Director of SumOfUs said: "The January 6th insurrectionists are being charged and arrested while these three men, who fed them the money, followers, and tools to make the whole thing happen, get away with a softball grilling from Congress. Break up Big Tech or just sit back and wait for the next armed rebellion."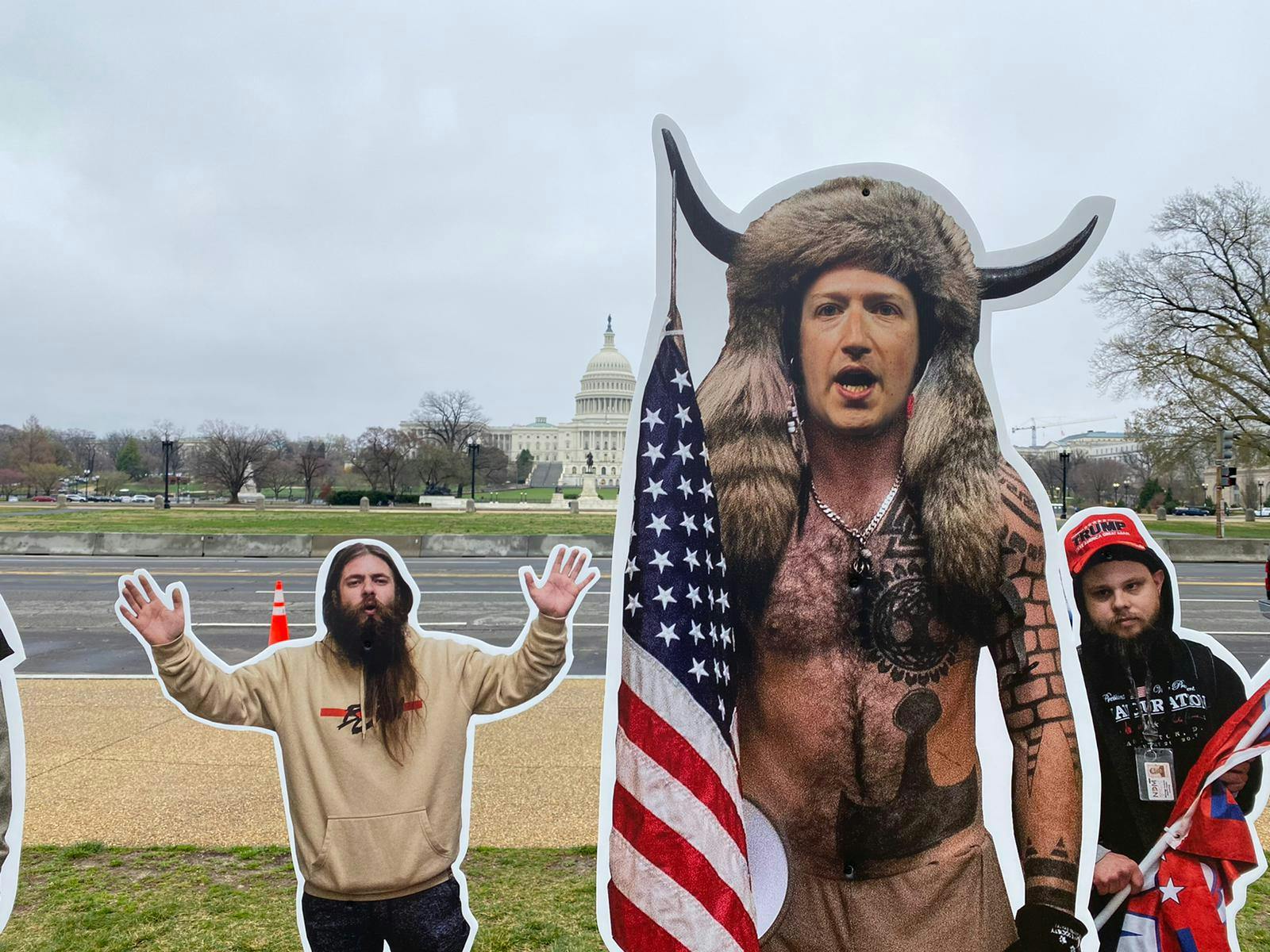 SumOfUs' research reveals how tech platforms failed to respond promptly to election disinformation, and how the measures they took came up massively short in preventing the escalation of violence. The group reviewed dozens of social media accounts, pages and groups, as well as far-right disinformation websites, and found that tech companies not only provided the organizing platforms for the far-right revolt of January 6th; their policies, algorithms, and tools directly fueled it. 
Facebook
In addition to failing to label or remove misinformation promptly, Facebook claimed to have turned off group recommendations. But research from TheMarkup shows that recommended content was still being shown to nearly a quarter of Trump voters while non-voters received no recommended content, and for Trump voters who received group recommendations, half of the groups recommended were political.
Ruby-Sachs said "It's no shocker that Facebook failed to tell us about how its technology is being used to manipulate voters and spread harmful misinformation. How many times are we going to be fooled by these profit-hungry monopolies before Congress finally acts?"
When the Facebook group "Stop the Steal" began to go viral, Facebook responded by removing the group and banning certain hashtags. But in the wake of the original takedown of Stop the Steal, several other groups grew up to replace it — some reaching nearly 100,000 members.
Despite Facebook's actions, it was the company's micro-targeting and algorithms that enabled these groups to flourish online — bringing together the very community that would later support and organize the insurrection.
Lawmakers from both sides are considering reforms to Section 230 of the Communications Decency Act -- the law that shields tech companies from liability for content shared on their platforms. Facebook and Twitter have both put forward proposals for reforms, with Facebook even launching a massive PR campaign highlighting their willingness for regulation.
"Letting Facebook decide how it should be regulated is like letting a criminal decide their own sentence. Congress and the Biden administration must ensure they're consulting with independent experts -- not Facebook lobbyists and former execs."
The Biden administration has hired several former Facebook employees, including former board members, directors, and lobbyists.
Google and Amazon 
SumOfUs' riots brief also highlights how ad tech platforms like Google and Amazon are funding and profiting off of disinformation websites — which are in turn amplified on Facebook and continue to circulate in far-right extremist networks. 
Google joined dozens of corporations in suspending donations to lawmakers who voted against President Biden's certification, yet the platform continues to fuel and profit off the very disinformation it claims to be fighting against. From stories about Antifa storming the White House in a false flag operation, to others about a majority of Americans supporting the attempted coup -- Google ads are directly funding disinformation and conspiracy websites. 
And the company is profiting from this deception -- it is estimated that Google earned $19 million from Covid disinformation, and nearly 200 sites spreading electoral disinformation make over $1 million in ad revenue each month. Google accounts for 71% of all advertising dollars placed on the 200 disinformation sites. 
"Lawmakers and the media tend to focus on Facebook and Twitter, while Google gets away with being a massive contributor to the disinformation machine. These websites have huge reach on Facebook, but are able to sustain themselves thanks to Google ads. Until Google changes its policies on the monetization of disinformation, the company is equally responsible for the violence on January 6," said Ruby-Sachs. 
ENDS 
For more information or to set up an interview, contact Rewan Al-Haddad rewan@sumofus.org
Stay in touch! Visit: https://www.sumofus.org/media/